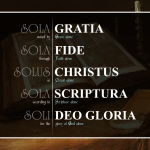 Five hundred years ago, Martin Luther put forth his Ninety-five Theses (and may have nailed them to the door of the chapel at Wittenberg Castle) and caused a ripple effect that would forever change the course of western Christianity. Eric Metaxas describes the plight of the medieval Christian in his timely new biography of Luther:
"Although the theology of the Christian faith had always been that God saved us from our sins—that Jesus was the Savior, not we—and that in his mercy and love God rescued us who could not rescue ourselves, there had nonetheless crept into the reality of Christian life another idea altogether, one that was dramatically opposed to this first idea. There was in medieval Christian life the strong implication that if one could not earn one's own salvation outright, one could certainly go a long way toward earning it, and one had better do what one could."
He further hones in on the primary problem:
"Here was the central difficulty of late medieval Catholic theology: that one was brought to the place of understanding one's sinfulness and one's unworthiness before God but was not told what to do at that moment of understanding except to lie paralyzed with hopelessness, to confess and try harder. At some point, the sinner—and Luther chief among them—came to feel that he wholly deserved God's fierce anger."
As I grew up in the Roman Catholic Church, I came to empathize with the hopelessness of the medieval Christian: from an early age, I found myself presented with an unspoken implication—and sometimes explicit teaching—that my behavior affected how God viewed me. Please don't think that my intent is to single out my Roman Catholic brothers and sisters here; no, this thinking pervades all avenues of Christian belief. Consider the great extent to which the medieval understanding described by Metaxas has crept into our modern thinking: We constantly try to put on a good face—not only in public, but in our private spiritual lives with God, as if we can keep things hidden from an omnipresent, omniscient God. We tend to create our Father in our own image, fickle as we are and predisposed to situationally-dependent love and kindness. We find ourselves like Paul, hopeless and helpless to resist: "For I do not do the good I want to do, but the evil I do not want to do—this I keep on doing." (Rom. 7:19). In our own power, we are unable to do anything to bridge the great chasm we find between our sinful selves and our perfectly holy Creator. We can't earn our salvation through our own merit, because we are hopelessly bereft of meritoriousness.
The Reformation that Luther set in motion, though, had many consequences—not the least of which was a return to an understanding of how we are truly justified. "For it is by grace you have been saved, through faith—and this is not from yourselves, it is the gift of God—not by works, so that no one can boast." (Eph. 2:8-9) Luther highlighted and underlined this truth when he recognized justification sola gratia ("by grace alone").
It's difficult to overstate the importance of Luther and his predecessors. This understanding of God's infinite, unwarranted love not only informs our concept of God, but breathes abundant life into our relationship with Him. It is with recognition of our desperate depravity and inadequacy that our understanding of God's boundless love is augmented. The same God from whom none of our basest thoughts are hidden loves us, not because he doesn't see our sins as they truly are, but in spite of it. "But God demonstrates his own love for us in this: While we were still sinners, Christ died for us." (Rom. 5:8).
It is this grace that I unknowingly yearned for as I spent my early adult years searching for meaning and understanding. It is this very grace which was like purest water to me when I was thirsty to the brink of death. It is this grace that washed over me like a flood and brought me to my knees in tears of joy.
It is my earnest prayer that, whatever your faith tradition, you understand that God's perfect love means that He loves you exactly as you are, in spite of your sin, because he sees you as he created you: a child of God made in his image. It is my urgent hope that you receive the freely-given gift of salvation, and allow yourself to truly experience life more abundantly.
I fervently hope that we would all come to such a pure understanding of the grace of God: the kind which gave blessed assurance to my father (who happened to be a lifelong Roman Catholic). A few weeks before his death, he was asked if he feared the end. He did not, because he knew that he would join the rest of God's children. When asked about the reason for his certainty, he replied, "because it's not about what I've done; it's about what Jesus did."